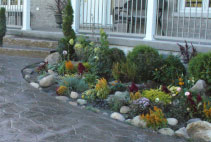 MARWIL SPECIALIZES IN RESIDENTIAL, AGRICULTURAL, AND COMMERCIAL CONCRETE FINISHING. AT MARWIL WE'RE ALL ABOUT QUALITY WORKMANSHIP AND BUILDING PROJECTS THAT WILL MEET YOUR NEEDS, YOUR REQUIREMENTS AND YOUR BUDGET.
Marwil Concrete Construction Ltd. was established in May 2009 by Willis Martin. Willis has worked with concrete since 2004. Quality workmanship has been the driving force behind Marwil Concrete's growth, and today we serve a diverse customer base including many home owners.
Marwil specializes in power trowelled floors, concrete retaining walls, driveways, sidewalks, patios, porches, steps, decorative stamped and coloured concrete.
We strive to excel in all of our projects and our mission is to create quality concrete flatwork. Give us a call or email if you have any upcoming concrete projects and we would be happy to assist you.
PRODUCTS
Marwil is familiar with the following products. If any of your projects require the following, we'd be more than happy to help.
Ashlar Slate, Random Stone, Cut Stone Cobble Stone, Old Granite Seamless Texture, Roman Slate Seamless Texture, or 6" Wood Plank patterns available in stamps, Also regular broomed finish or exposed aggregate. See our concrete finishes in the Photo Gallery.