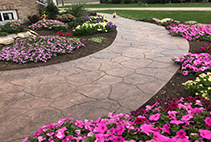 Marwil Concrete Construction Ltd. was established in May 2009 by Willis Martin. Willis has worked in the concrete industry since 2002 and his many years of experience and close attention to detail has transformed Marwil Concrete into a very reputable company. Although Marwil Concrete works as a contractors subtrade in recent years we have put our focus primarily on doing residential work and working directly with the homeowners. Marwil Concrete is committed to customer satisfaction and we recognize that a satisfied customer is a repeat customer and word of mouth advertising is the best advertising. Our mission is to create quality concrete work that you can enjoy for years to come.
We specialize in driveways, sidewalks, patios, porches, and steps. We will also do power trowelled basement, garage, and shop floors. We provide brushed concrete, stamped concrete, or exposed aggregate concrete. Concrete can be coloured with various colours available upon request. Brushed concrete is the most affordable and popular finish. It's durable and provides a high traction finish. If used in combination with other finishes it can create a timeless and modern design. Stamped concrete provides a high-end finish and decorative design for patios and sidewalks and mimics the look of stone, slate or wood. Exposed concrete creates a visual curb appeal with the exposed stones showing in the surface resulting in a beautiful finish with low maintenance and a non slip finish.
We have the equipment and are set up to efficiently remove and haul away old asphalt or old concrete driveways before excavating for a new base, if needed. We also provide full excavation for backyards that are currently lawn and do all the prep work needed for installing a new patio or sidewalk area. A gravel/granular base is compacted in place and a grid of rebar is used for reinforcing as needed before any concrete is poured.
Depending on the finish or location of the concrete a sealer may be necessary. We strongly recommend you do not use any salt or corrosive de-icing materials on your concrete as it can damage the surface. Sand is a better alternative for slip resistance.
Give us a call or email if you have any upcoming concrete projects and we would be happy to assist you.
Check out the Photo Gallery to see our concrete work and finishes.